The Inner Garden
KV35: Ancient Egypt's chamber of horrors.
It contained the remains of 12 people, dead for more than 2,000 years. What's their story?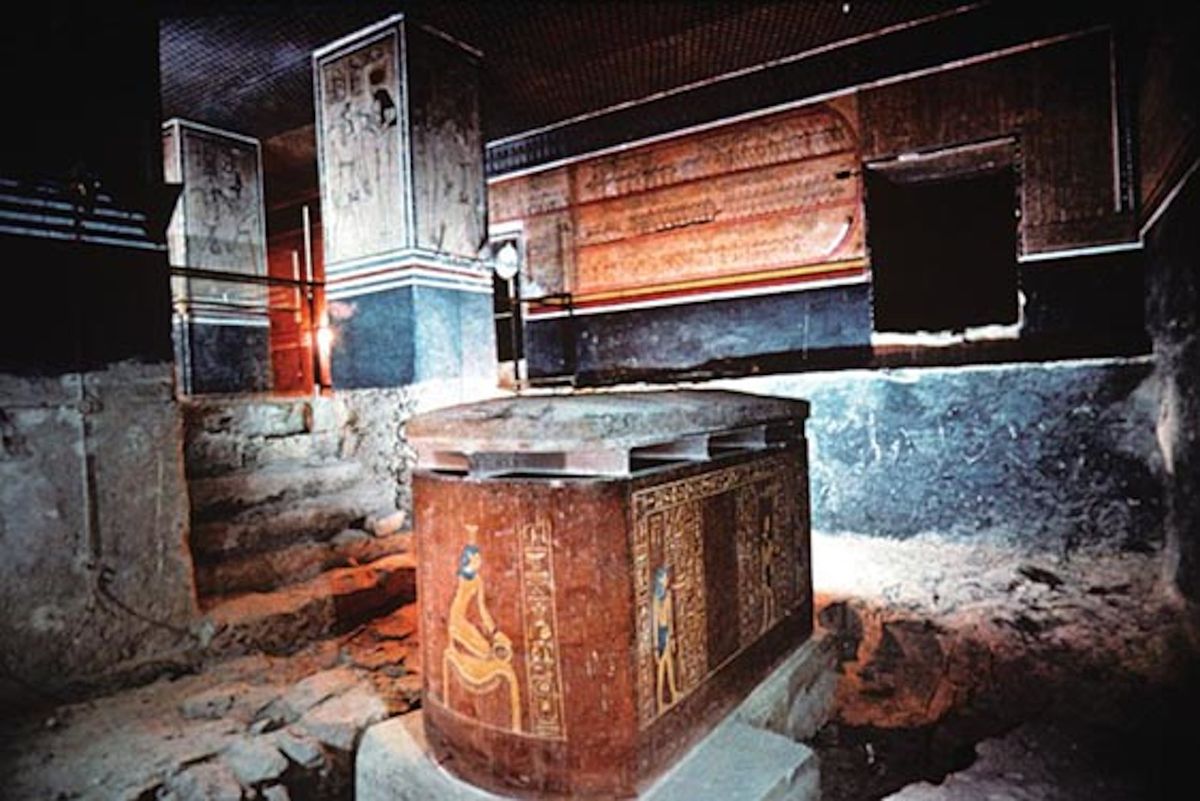 Warning: this article contains an image of human remains (an ancient Egyptian mummy). If this is problematic for you, skip this article. Or, if you are receiving this by email and want to read the article without the images, most email apps have an option to "block remote content from this message." Please see my note, at the end, regarding my thoughts on this issue.
On March 9, 1898, at the height of one of the many periods of intensive activity by European archaeologists in Egypt, French Egyptologist Victor Lorent and members of his expedition slithered through a small hole cut in the doorway of a chamber in the famous Valley of the Kings, an ancient Egyptian cemetery in Luxor. With the light of his candle dancing around the dark subterranean room cut deep into the dry stone, Loret came face-to-face with a mummified human corpse lying in a small wooden boat-like structure. There were holes in the mummy's chest and head. The floor was covered in pieces of broken funerary artifacts and chips of limestone. The young man whose corpse Loret had discovered was later identified as a minor king called Sethnakht, who died probably in the 1180s BCE. He was not placed on the boat by design. The boat was an artifact marked as belonging to another king, Amenhotep II, and poor Sethnakht was apparently flung onto it after his corpse was rifled by tomb robbers who tossed him aside like an old doll. Over the nearly 2,000 years between that event and the day Loret arrived, the body literally adhered to the boat.
Loret and his workmen, most native Egyptians who toiled for Europeans for a pittance of a wage, soon made several other grisly but fascinating discoveries in a long, elaborate chain of rooms that came to be known, using the system of identification developed by archaeologists, as "KV35." It soon became clear that KV35 was in total disarray, and something very strange had happened here. The archaeologists found the proper coffin of Sethnakht in one of the side chambers, but the body inside of it was someone else, an old man identified as Merenptah. In that same room were found the mummies of a young man, Siptah, who suffered some form of crippling disability, perhaps cerebral palsy, three members of the Ramesses dynasty (Ramesses IV, V and VI), and an old woman, never identified, who had a gaping hole gouged out of her abdomen. There were also a couple of disembodied skulls found in the room. In another chamber the mummy of Amenhotep II--the pharaoh whose tomb KV35 was evidently intended--was located in an elegantly decorated sarcophagus. Although Loret discovered various funerary artifacts, KV35 had clearly been thoroughly robbed thousands of years before and little was left that wasn't broken or decayed.