The Outer Garden
Historic Photo: Shipwreck at Chasland's Mistake, New Zealand, 1876.
I'm not sure who Chasland was, but this was certainly somebody's mistake.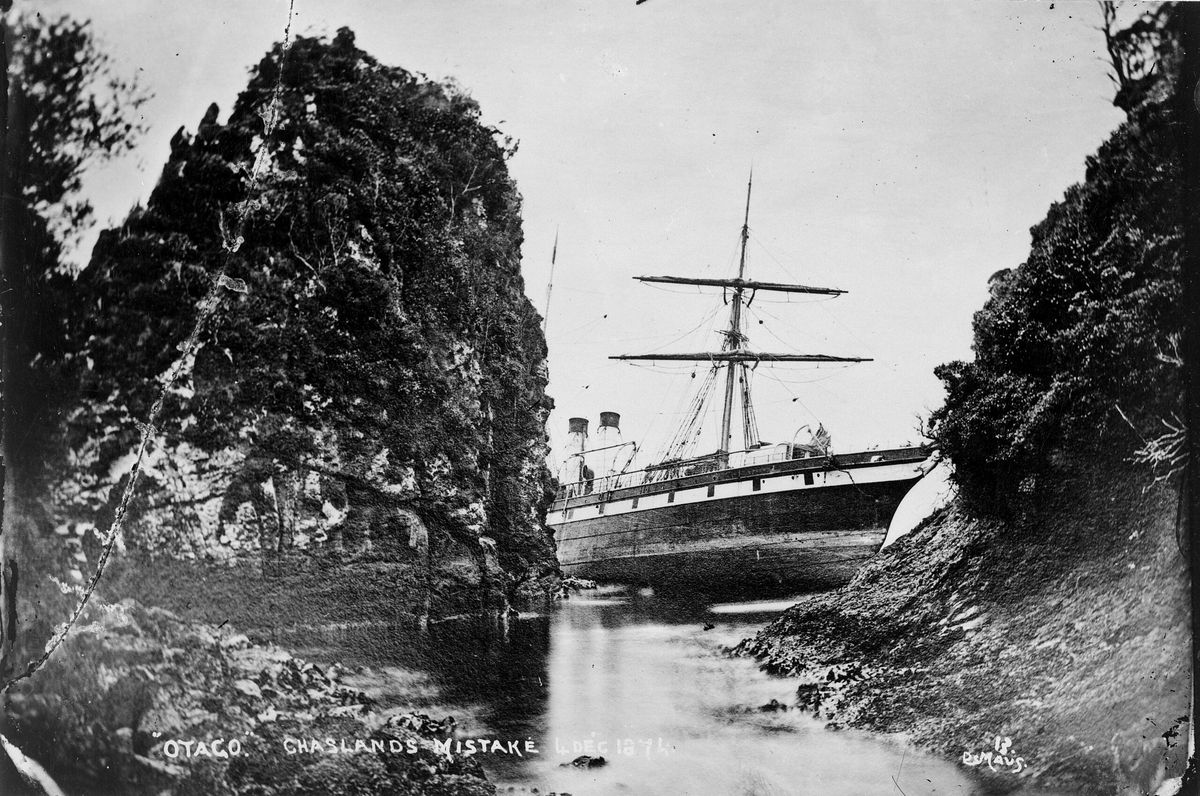 Sometimes when I'm in a bad mood I will go searching for antique photos, both as sort of a soothing mechanism and as a means to find material for this blog. Well, I've been in a mad mood lately, but I was somewhat amused to come across this photo, which was taken on or shortly after December 4, 1876 in New Zealand. The caption referenced something called "Chasland's Mistake" and my first thought was, "It certainly was!" To my surprise, that is not the title of the photo, but the name of the place where it was taken. Chasland was apparently an explorer, not the person responsible for this unfortunate situation.
This picture depicts the SS Otago, a 642-ton coastal steamer that plied various ports in Australia and New Zealand in the late 19th century. Sailing from Dunedin (New Zealand) to Melbourne, Australia, on December 4 she hit a patch of thick fog and ran aground here. There were no casualties and her crew and passengers were rescued by another ship, the Express. I don't know whether Otago herself survived the incident, but I suspect she did. Groundings don't often result in the total loss of a vessel (although there are some notable exceptions).
This picture is interesting not just because of the juxtaposition of the crashed ship and the dramatic rocky scenery, but also the ship herself. She has two funnels (smokestacks), but also masts and rigging, which was common among ships in this transitional era. By the 1870s the sails would have served as a backup propulsion system to the steam engines, a reversal from the early days of steam in which engines were put into early ships as a backup to the sails. As for the terrain, this part of coastal New Zealand, called The Catlins, is a unique environment of rainforest with many exotic species unknown in other places. It's a uniquely treacherous coast. Eight major shipwrecks, including this one, occurred near here between 1839 and 1892. After the worst of them, the Tararua, which claimed 131 lives, the Waipapa Point Lighthouse was built near here to try to make things a bit safer.
The inscription on the bottom of the photo, stating it was taken in December 1874 (not 1876), is apparently erroneous. The original plate of this picture is in the De Maus Collection, Alexander Turnbull Library, National Library of New Zealand.
---
The Value Proposition
Why should you be reading this blog, or receiving it as a newsletter? This is why.
☕ This is where I normally put my Ko-fi link. Don't buy me a coffee this week--order my new history book The 50 Most Important Things in History instead for the same price!
🎓 Like learning? Find out what courses I'm currently offering at my website.
📽 More the visual type? Here is my YouTube channel with tons of free history videos.