The Outer Garden
Historic Photo: "Radio Row," New York City (later the World Trade Center site), 1936.
This area, whose shops used to sell old vacuum tubes, became one of the most tragic places in U.S. history.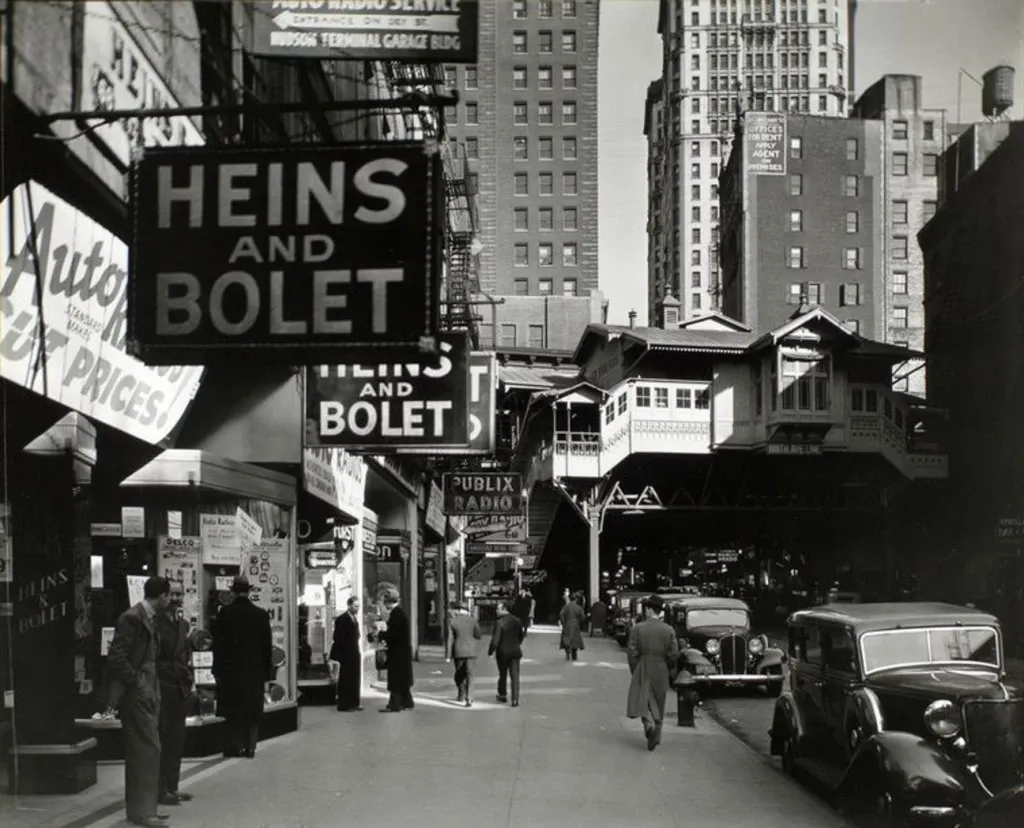 This photo depicts a little sliver of New York City that remains, like so much of the city, only in memory. This picture was taken in April 1936 on Cortlandt Street in lower Manhattan, in a part of town that was then known as "Radio Row." At first glance it might look like any other place in New York City during the 1930s. There are street-level shops, people going about their business, cars parked on the curbs, a sign advertising office space for lease, and the normal look of a busy city. If you look closer, though, you can see clues as to where this neighborhood is located, and if you know Manhattan geography, it may startle you. That's the Woolworth Building rising in the background, and the sign barely visible at the top of the frame directs people to the "Hudson Terminal Garage Building." The place where Radio Row was once located later became one of the most famous--and tragic--addresses in American history: this is where the World Trade Center towers were built beginning in the 1960s.
Radio Row was called that because back at this time you could buy a lot of radios and other appliances at shops in this area. Radio took off as a consumer obsession in the 1920s, about the time the first radio stores moved into this neighborhood. Not just sets, but later parts, transistors, and basic electronic junk retailed here. World War II almost killed the economy of this neighborhood, as electronics and parts were all in use for war-related industries and little was left to trickle down to the retail market. But in the era of television, the 1950s, the area rebounded, now with TVs in shop windows rather than radio sets.
In 1961, however, Radio Row was fated for extinction by the city's eminent domain. The World Trade Center, which had been planned as far back as the 1940s, was supposed to be built here. Despite protests by the area's businesses, the project went ahead. The city offered a piddly $3,000 to the owner of each business affected; some had been there for decades. By the end of 1963 wrecking balls had consumed most of Radio Row's buildings. The skeletons of the World Trade Center towers began rising on this site beginning in 1966. Six years after that multimillion-dollar tenants were operating in the high-rises, now New York's tallest. Osama bin Laden and his Al-Qaeda terrorists unfortunately effected the next unplanned episode of major urban renewal in this area on September 11, 2001. The site is now a memorial, and will probably remain so forever.
This photo was taken for the Works Progress Administration, a New Deal agency in the 1930s, by a photographer named Berenice Abbott, one of New York City's most iconic photographers. After a career of documenting the city's changing streets, building and people, Abbott died in 1991.
---
The Value Proposition
Why should you be reading this blog, or receiving it as a newsletter? This is why.
☕ If you appreciate what I do, buy me a virtual coffee from time-to-time to support my work. I know it seems small, but it truly helps.
📖 You could also buy my newest book.
🎓 Like learning? Find out what courses I'm currently offering at my website.
📽 More the visual type? Here is my YouTube channel with tons of free history videos.