The Outer Garden
Historic Photo: Dining saloon of the SS Great Eastern, 1859.
Your table is ready aboard the Great Eastern. Hope you're not in a hurry!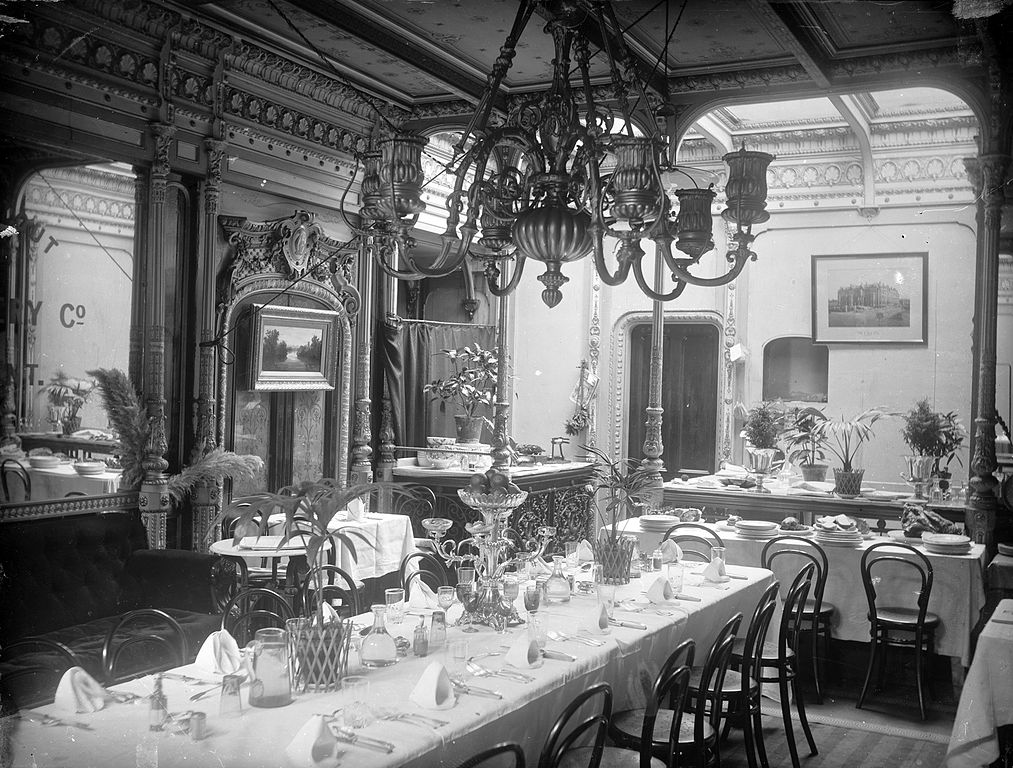 I love collecting and sharing historic photos and it's one of the mainstays of this blog, but one of my favorite category of historic photos to peruse are those of ocean liner interiors. This is the main dining saloon aboard the SS Great Eastern, which was undoubtedly the most amazing ship of her time and a significant milestone in the history of technology in general as well as that of North Atlantic liners. The ship was the brainchild of the British industrial designer Isambard Kingdom Brunel, a pioneer of engineering in the early Industrial Revolution era, fresh off his successes with the Thames Tunnel and the Great Western Railway. The Great Eastern was meant to set a new standard in speed, power and luxury for transatlantic travel. Construction on the Great Eastern--which dwarfed any steamship (or any other kind of ship) then in existence by a wide margin--began in 1854 and continued for the next five years. By 1859 the ship was fitted out and ready for passengers. This room exemplifies the standard that Brunel and the Eastern Steam Navigation Company had in mind for their great liner.
The details of this photo fascinate me. The paneling and moulding is extremely intricate, especially toward the ceiling, and the light fixture--which would have held gas lamps--looks like something out of a Gothic horror movie. The furniture, however, is surprisingly simple, with very plain cane-backed chairs which are, interestingly, not bolted to the floor as they were on other (later) passenger liners. The table service set out here is typical of mid-Victorian excess. Everyone has at least three forks, a soup spoon and several glasses for various beverages, including water, also unusual on Victorian tables. In the 1850s a high-class dinner would take several hours, proceeding through endless courses of soups, fowl, meats, and desserts, each one accompanied with its own wine or liquor. The alcohol consumption of the typical person in the 19th century was several times that of what would mark someone as a hopeless alcoholic by today's standards. My guess is that dining on the Great Eastern took up a good chunk of the day. There wasn't much else to do on a transatlantic voyage at this time, which could take nearly two weeks.
The Great Eastern was a very unlucky ship. In September 1859 she blew up on her maiden voyage, killing six people. After repairs she finally completed her first voyage across the Atlantic in June 1860. Though mighty and impressive, the Great Eastern was grotesquely expensive to operate and would have had a hard time making a profit in boom times, but she had the misfortune to start her Atlantic work about the time of the U.S. Civil War when traffic between England and America declined. She only made a handful of voyages between 1860 and 1863, served briefly as a cable-laying ship for an unsuccessful attempt to lay a submarine telegraph cable, and wound up as a floating advertising billboard before being demolished in 1889. Rumor has it that a human skeleton was found wedged in her double bottom when she was finally taken apart. That rumor is probably not true but it is firmly part of Great Eastern lore.
This picture also has some amazing clarity. If you're used to seeing 1850s photographs scratchy and smudged, this one is a breath of fresh air.
---
The Value Proposition
Why should you be reading this blog, or receiving it as a newsletter? This is why.
☕ This is where I normally put my Ko-fi link. Don't buy me a coffee this week--order my new history book The 50 Most Important Things in History instead for the same price!
🎓 Like learning? Find out what courses I'm currently offering at my website.
📽 More the visual type? Here is my YouTube channel with tons of free history videos.