The Outer Garden
Historic Painting: "Many Happy Returns" by William Powell Frith, 1856.
There's a lot going on in this Victorian-era painting of a young girl's birthday party.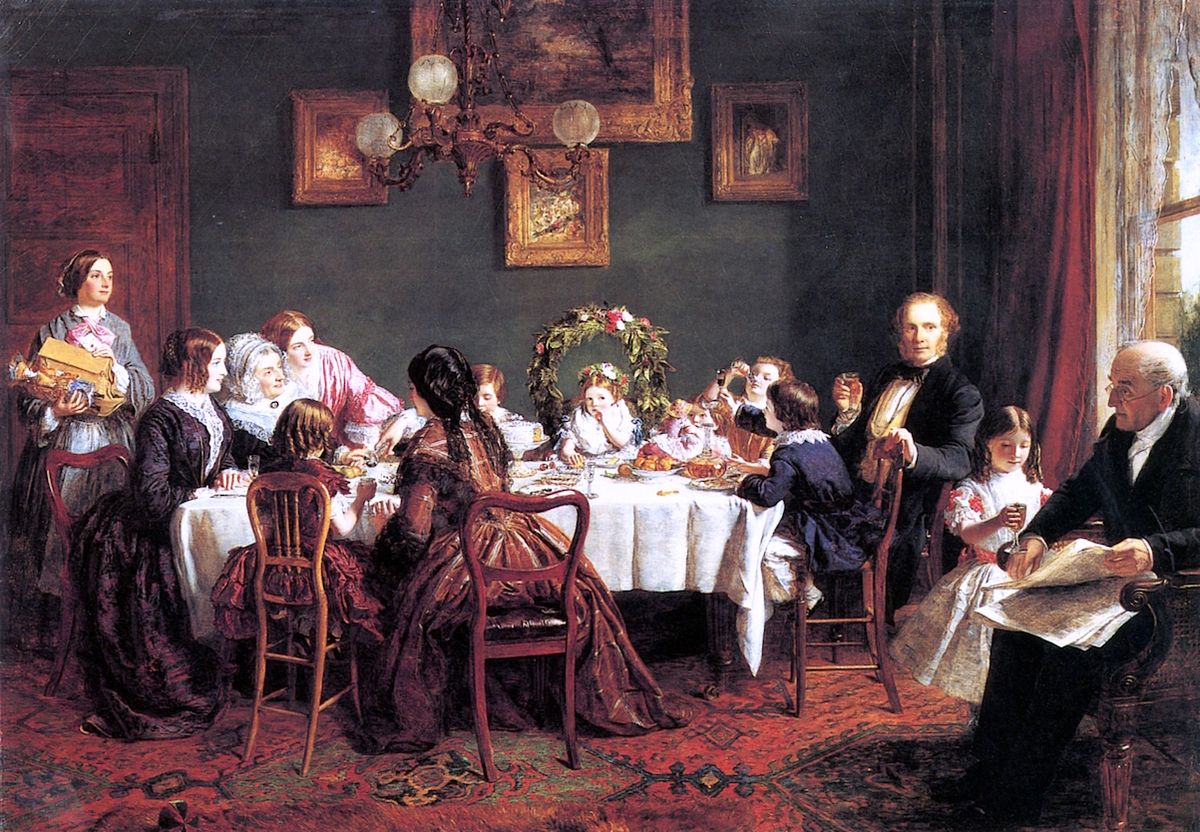 Now here's a picture from an interesting genre: the English social painting. This perfectly charming painting, dating from 1856, is called Many Happy Returns for the Day and was created by British artist William Powell Firth. It depicts a birthday party in the early Victorian era. It appears that the little girl at center with the wreath surrounding her is the one having the birthday, and this obviously very affluent British family is falling all over themselves to shower her with gifts. The woman at far left appears to be bringing her a doll or toy of some kind, but most of the gifts on the table consist of food, especially bread, though if you look closely there's a good deal of drinking going on here. A crystal decanter is filled with a ruddy-golden liquid, perhaps sherry, one of the fortified wines for which Britons had a particular taste in the mid-19th century. The gentleman at the end of the table with his mutton-chop sideburns, resembling actor Paul Bettany, is about to down a glass, but note the little girl at the far right bringing a glass of the stuff to the elderly man, presumably her grandfather, who can't even be torn away from his newspapers to take part in the party. There's a fascinating satirical edge to this painting that I like very much.
Note also the rich period details: the colorful Middle Eastern carpet, the mahogany chairs, and the gas light fixture above the table.
William Powell Frith was about as British as you could get in the mid-1850s, and he had a unique eye for the visual details of Victorian society. He liked to paint domestic subjects, particularly involving women and children, and as in this picture gave some of his views a whimsical look that could border on social commentary if you squinted hard enough. Several other of his pictures depict people in public places such as art galleries, beaches and railway stations. With his attention to detail of clothes, hairstyles and the way people carry themselves, Frith's paintings depicted the class structure of 19th century Britain. This is also what Frith's contemporary Charles Dickens was doing in writing rather than painting. It shouldn't surprise you to know that Frith knew and hung out with Dickens, and even painted his portrait. Both were keen observers of class in Victorian Britain and how industrialization was both changing and reinforcing it.
Throughout his long life--he died in 1909 at age 90--Frith seemed to be equal parts a participant and a mocker of British society. When he wasn't occupied in his painting studio he was certainly busy between the sheets, fathering 19 children in his lifetime, split between his long-suffering wife (who bore 12 of his kids) and his mistress (who mothered the remainder). My guess is that if you met William Powell Frith in a gentleman's club in London in the late 19th century, you'd probably have an awesome time talking to him...whilst drinking sherry, of course.
I love these kinds of pictures! Hopefully you will too.
---
The Value Proposition
Why should you be reading this blog, or receiving it as a newsletter? This is why.
☕ If you appreciate what I do, buy me a virtual coffee from time-to-time to support my work. I know it seems small, but it truly helps.
📖 You could also buy my newest book.
🎓 Like learning? Find out what courses I'm currently offering at my website.
📽 More the visual type? Here is my YouTube channel with tons of free history videos.