The Outer Garden
Historic Painting: Amsterdam in winter, George Hendrik Breitner, 1897.
This interesting painting is obviously impressionist, but is posed like a photograph.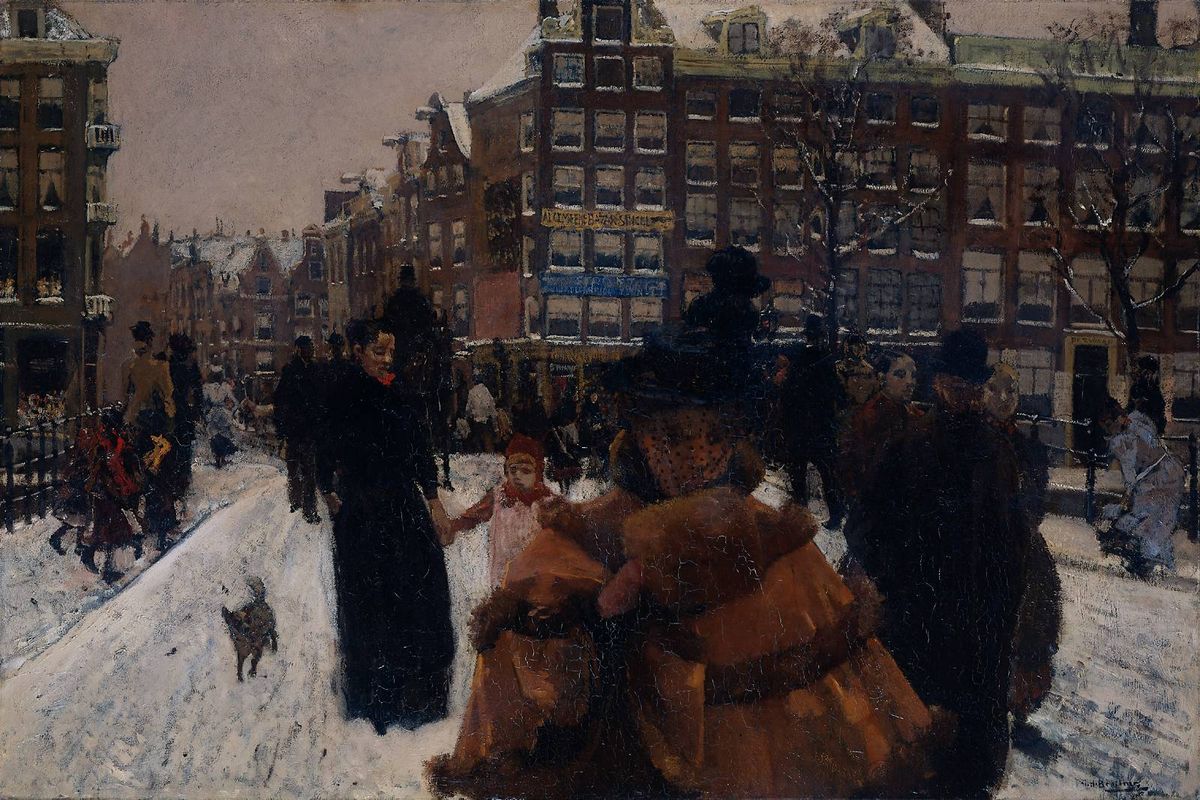 The full title of this eye-catching painting is The Singelbrug near the Paleisstraat in Amsterdam, and it was painted by Dutch impressionist George Hendrik Breitner in 1897. The Singelbrug and Paleisstrat are streets in Amsterdam. The first thing you'll notice about this picture is that it's style is remarkably un-painting-like. Especially with the woman approaching in the foreground who is more blurred than she should be, the figures resemble more of an early photograph, kind of like a Daguerreotype, than a painting. This is not surprising, because in addition to being a painter Breitner was a noted photographer, and he took many photographic studies of urban life that he used as inspiration and models for his paintings.
Breitner was an interesting guy. Expelled from a noted art academy in The Hague in 1880, he later palled around with another and more famous tempestuous impressionist, Vincent Van Gogh, some years before the latter shortened himself by an ear. Breitner was a huge fan of French novelist Émile Zola and introduced Van Gogh to his work. The literature of Zola, like the art Breitner and Van Gogh create, depicted real-life working class people and conditions in Europe and attained a sort of social consciousness, often fiercely critical of the inequities of European society that regarded itself at the end of the 19th century as the pinnacle of civilization. The Singelbrug is not a painting of that ilk, but it does seek to portray the urban environment of Amsterdam, including the humans who live there, in a realistic way. Breitner was quite fond of creating scenes involving inclement weather. Here obviously it's snowing, or has just finished.
There's a kind of hazy beauty that surrounds urban views of the late 19th century. Before the First World War, when the collective psyche of the Western world was so badly shocked by the horrors of modern warfare, there was still a lingering kind of blind optimism in progress and civilization. That fragile aura didn't survive long into the 20th century. I can't identify exactly which elements do it, but I think Breitner has captured a bit of that zeitgeist in this view.
Breitner's downfall was his failure to adapt to new artistic styles–and also possibly living in the wrong age. On the eve of World War I, European art changed into the highly expressionistic, even absurdist style that it would take for much of the 20th century. Breitner steadfastly resisted these new trends and his output tapered off. He died in 1923.
---
The Value Proposition
Why should you be reading this blog, or receiving it as a newsletter? This is why.
☕ If you appreciate what I do, buy me a virtual coffee from time-to-time to support my work. I know it seems small, but it truly helps.
📖 You could also buy my newest book.
🎓 Like learning? Find out what courses I'm currently offering at my website.
📽 More the visual type? Here is my YouTube channel with tons of free history videos.