The Outer Garden
Heeeeeere's Johnny's legacy: The Tonight Show's golden age.
For 30 years Johnny Carson was the face of the Tonight Show. When he signed off in 1992, an era ended.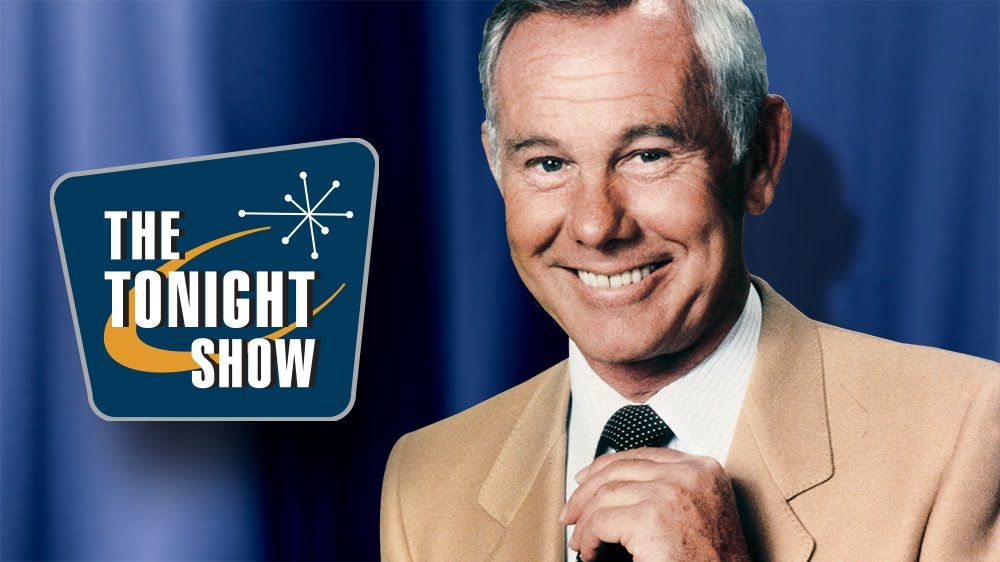 Thirty-one years ago tonight, on May 21, 1992, legendary late night talk show comedian Johnny Carson hosted his last-ever broadcast of the long-running Tonight Show with guests. Robin Williams and Bette Midler were among them. That particular show was a rare gem, so much that it helped boost The Tonight Show to an Emmy award for Outstanding Late-Night. It was the second to last episode featuring Carson. The next night, May 22, was a retrospective and farewell, at the end of which he signed off forever. Many people in America felt an epoch ended that night, and in many ways it did.
The Tonight Show is a cornerstone not just of television history but of American culture in the post-World War II era. It's run on NBC continuously since September 1954, making it one of the longest-running shows of all time--only Meet the Press and Today have had longer runs--and generations have grown up with its hosts. Jimmy Fallon currently hosts the show, having taken over for Jay Leno in February 2014. But arguably the golden age of The Tonight Show was the Carson epoch which lasted three decades, beginning in October 1962 and ending in May 1992. Carson himself was controversial and problematic, and looking back on it now that era of The Tonight Show wouldn't hold up under modern sensibilities. Yet its impact on the cultural landscape of America is undeniable.
It's not fair to say that Carson was unknown when he took over the show in 1962, but he certainly wasn't the star he was later to become. After growing up in Omaha, Nebraska, Carson got started in TV in the Midwest and moved to L.A. in the early 1950s. His big break was as an understudy for comedian Red Skelton, who somehow managed to knock himself unconscious an hour before his show. Carson filled in and got big laughs. In 1962 NBC was desperate to find a new host to replace Jack Paar on their struggling late-night talk show, The Tonight Show. Paar had a troubled relationship with NBC. Still, Carson was the network's fifth choice. Jackie Gleason, Bob Newhart, Groucho Marx and Rat Pack member Joey Bishop all declined. Carson took the gig and went on the air on October 1, 1962. With his glib style and penchant for wheedling funny lines out of guests, Carson made the show a hit.
Not only Carson himself but many of the accoutrements of the show passed into popular culture, from the monologue-at-the-beginning format of nighttime talk shows to sidekick Ed McMahon's famous introduction that was lampooned in Kubrick's The Shining. While Carson's guest roster is influential for having launched or significantly boosted the careers of comedians like Drew Carey, Arsenio Hall, Ellen DeGeneres and Jerry Seinfeld, noteworthy people of all kinds appeared on the show, from authors and rock stars to academics and scientists. It was a ratings bonanza which turned the former wasteland of late-night television into a license to print money for NBC. Carson was one of the highest-paid men in the entertainment industry. By the mid-1970s The Tonight Show made the network a staggering $60 million a year--the equivalent of over $335 million in 2022 dollars. Not bad for a show with a simple set and very low production costs.
Carson himself was not without controversy. Some who knew him remember him as shy, retiring and an almost diminutive presence when he was off-camera. Others who worked with him reported he was petty, needling and sometimes abusive. He turned the subject of his sidekick Ed McMahon's weight into a running gag line for years, a fairly blatant refrain of fat-shaming that would be unacceptable by today's standards. Carson seemed to resent others who he saw as competing with him or intruding on his spotlight, famously refusing to speak to former collaborator Joan Rivers after she got her own show in 1986. Some of the guests he platformed were problematic too. Carson, for example, was instrumental in boosting the career of con man Frank Abagnale, who parlayed his brief Carson fame into a fraudulent life story that became the movie (and Broadway musical) Catch Me If You Can. As Oprah Winfrey was to learn much to her cost in the 1990s and 2000s when she unwittingly platformed charlatans and con artists like "John of God" or the odious Dr. Oz, being one of the most-watched hosts on television meant that Carson bore at least some responsibility for what he was putting into the culture.
In the early 1990s Carson announced his retirement. His understudy and frequent guest host, comic Jay Leno, was tapped by NBC to take over the show, and his exit was scheduled for late May 1992. I remember watching the May 21, 1992 broadcast live that night. It was hilarious, the energy almost electric, and remains a classic in the show's catalog. Carson later said this particular episode was one of the best shows he ever did in his entire 30-year run. It was funny, but tearful at the end; the next night, May 22, would be Johnny's last performance. Carson was 66 when he retired. He died in 2005.
Although much better known to the younger generation of viewers that NBC wished to reach with The Tonight Show, Jay Leno simply didn't have the same charm that Carson did. At the time many people were skeptical that Leno could fill Carson's shoes. In my own personal opinion he did not. I think I laughed at Jay Leno maybe twice since 1992, but admittedly I never watched The Tonight Show much after Johnny left. It astonished me that Leno lasted 22 years. I have nothing against Conan O'Brien or Jimmy Fallon, but neither of them interested me much. I confess that although The Tonight Show has undeniably changed, I certainly have too. Watching comedians on TV, particularly late at night, is not really something that appeals to me. This format seems a bit archaic in the modern world, as if its time has already come and gone.
Recently I was at the house of my elderly parents, and my father somehow managed to find a cable channel that was showing old reruns of the Carson-era Tonight Show. I watched a few minutes of one that was, I think, from 1981 or thereabouts. It really wasn't that funny. Johnny was glib and fast with the quips, but maybe about one in four of his attempts landed in any real way. Perhaps The Tonight Show is funnier in memory than it is in real life. Kind of like the big miniseries I remember from the late '70s, which are inevitably corny when revisited in the modern era, fond television memories seem to be more ephemeral than real. But that's OK. The memories endure.
---
The Value Proposition
Why should you be reading this blog, or receiving it as a newsletter? This is why.
☕ If you appreciate what I do, buy me a virtual coffee from time-to-time to support my work. I know it seems small, but it truly helps.
📖 You could also buy my newest book.
🎓 Like learning? Find out what courses I'm currently offering at my website.
📽 More the visual type? Here is my YouTube channel with tons of free history videos.